Back to all posts
Posted on
A sure sign of spring! Flowers in the garden!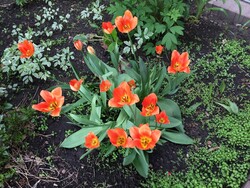 A sure sign of spring is flowers popping up, and NNS is no different!  Today we have a tulip blooming, and many other plants are showing promise of putting on a display later in the season.
These tulips have special significance - they were a gift last spring from the Dutch Royal Family:
In 1945, the Dutch royal family gifted 100,000 tulip bulbs to Canada as a thank-you for safely sheltering some of its members during the war years, and for liberating its citizens in the Netherlands from Nazi occupation. A week ago today marked the 75th anniversary of the liberation of Holland during World War II.  The country, last spring, sent tulip bulbs to New Norway School (and many others), replicating this gift to Canada as an act of remembrance and celebration of a decades-long friendship.  
Over the past several years, our staff and students have worked to beautify the garden spot at the main doors of the school, and their hard work is paying off. Many thanks to the staff and students who have tended the garden.