Back to all posts
Posted on
First Ever - Community Parade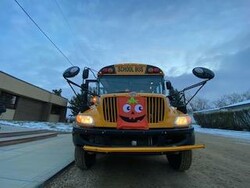 First-Ever!  Community Halloween Parade.  Raising money for Cancer Research. The High School Student Association is bound and determined to reach our goal of $4500.  Only $600 left.  If the goal is reached by October 31st, Halloween,  Mr. Searle will shave his precious beard!
The Spartan Spooktacular Halloween Parade will take place next Thursday, October 29th.  It will start from New Norway School at 12:30 pm and will end by 2:00 pm.  Our students will parade in their homeroom "pods" and will be separated from other grades, remaining socially distanced.  Our lower grades will start first with our older grades following in numeric order.
We encourage our community members to come out and check out the student costumes and cheer them on.  If you choose to join us, please socially distance and wear masks!
NOTE: This event is weather dependent and may be canceled at any time if the weather turns unfavorable for our younger students.
More information can be found below:
Parade Info - Spartan Spooktacular
Parade Route - Spartan Spooktacular
If you have any questions or concerns please contact the school.
Safe together, excellence together.