Back to all posts
Posted on
Raffle for handmade bench ends June 15th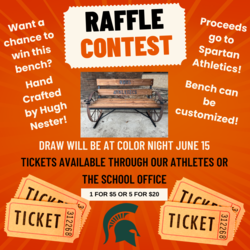 The legendary Hugh Nester hand-crafted a bench for our school, to raffle as a fundraiser,
Tickets are $5 each or five for $20, available from NNS Junior High and Senior High athletes, or at the school office.
The raffle will take place at Colour Night, the awards ceremony for NNS athletics. You don't have to be present to win. 
Thanks to the Parent Council and Hugh Nester for their contributions to this awesome project!