Back to all posts
Posted on
Remembrance Day observed Nov 10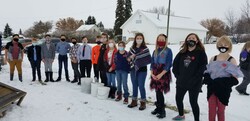 New Norway students observed Remembrance Day on November 10th, with the help of community members and the Duhamel Historical Society.
Grade 6 students placed painted rocks on the Cenotaph, then observed two minutes of silence and the playing of Last Post. Community members read about local men who served, and whose names are on the New Norway Cenotaph.
All of this was live-streamed on YouTube, and the students back at the school watched it as part of their own Remembrance Day observances.
Thanks to all the people who helped make the event memorable: Mrs. Luckwell for proposing the event, the NNS students who painted the rocks, the Enarson family who provided the cleaned and sized rocks, Ms. Marr who coordinated the rock painting project in the school, Mr. Searle and W. Mowat who provided the live-streaming, Ms. Ng and the Grade 6 class for placing the rocks, The New Norway Volunteer Fire Department, and the Duhamel Historical Society. (Hopefully we haven't missed thanking anyone.)
Watch the ceremony on this link: NN Remembrance Day Live-Stream 2020