Back to all posts
Posted on
Virtual Race Series a big success!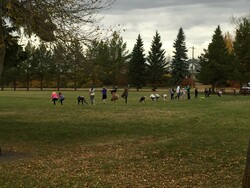 Congratulations to all the students, staff and community members that participated in the Virtual Battle River Race Series this week. These pictures are from the after-school run on October 8th; we also had runs occurring during Phys Ed, and some families did it at home.
(Our Spartan Tough Event is part of this Race Series - maybe next year, we will be able to host our Epic Race again!)
Proud of our Spartan Nation!