Back to all posts
Posted on
Welcome Back Spartans!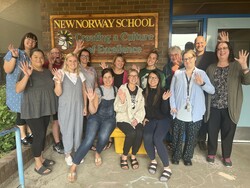 Please click here for our First Newsletter of the Year!
Script of email sent to all families September 1 in evening:
Hello Spartan families
As promises, an update on what the next week at NNS brings. Most of this information is also available in today's newsletter (link here) including our homeroom teacher list. 
1. The Parent Council has their well-anticipated Apple & Pear Fundraiser happening right now, through this weekend. Please go to the online fees and ordering system and place your order. It has a very short turnaround, and will close on Tuesday September 5th at midnight. We anticipate delivery on Monday September 11th. All apples & pears are hand-packed into a 15 lb box and delivered fresh from their farm in Vernon, B.C. Please direct any inquiries to Nancy Enarson at nnschoolcouncil@gmail.com  We have asked that the fundraiser be available to the public so if your friends and family want apples and/or pears, they can just follow the instructions on how to order as a Rycor guest. 
2. School starts on Tuesday September 5th for Grades 1 to 12, and on Thursday September 7th for Kindergarten.  Classes run from 8:42 AM to 3:11 PM this year, with lunch break from 11:42 to 12:17. Our first early dismissal day is not until October (no Early Dismissal in September) - we will send more info on that in coming weeks.
3. Our Junior High students (Grade 7 to 9) will attend the Camrose Comp again this year, for exciting junior high options. That will start this Wednesday for Grade 7's only, and the Grade 8's and 9's will travel to the Comp on Friday. Bussing is provided for these weekly excursions. I repeat, this is only for the Grade 7 to 9 students, and it does start this week.
4. School pictures will happen on Tuesday September 12th.
5. Check out our school website for more information at www.nnorway.brsd.ab.ca
We are excited to start another school year, and look forward to welcoming you back (or for the first time) next week.
Please call the school on Tuesday if you have any questions.
Thanks,
Mrs. Gwen Brown, on behalf of all!